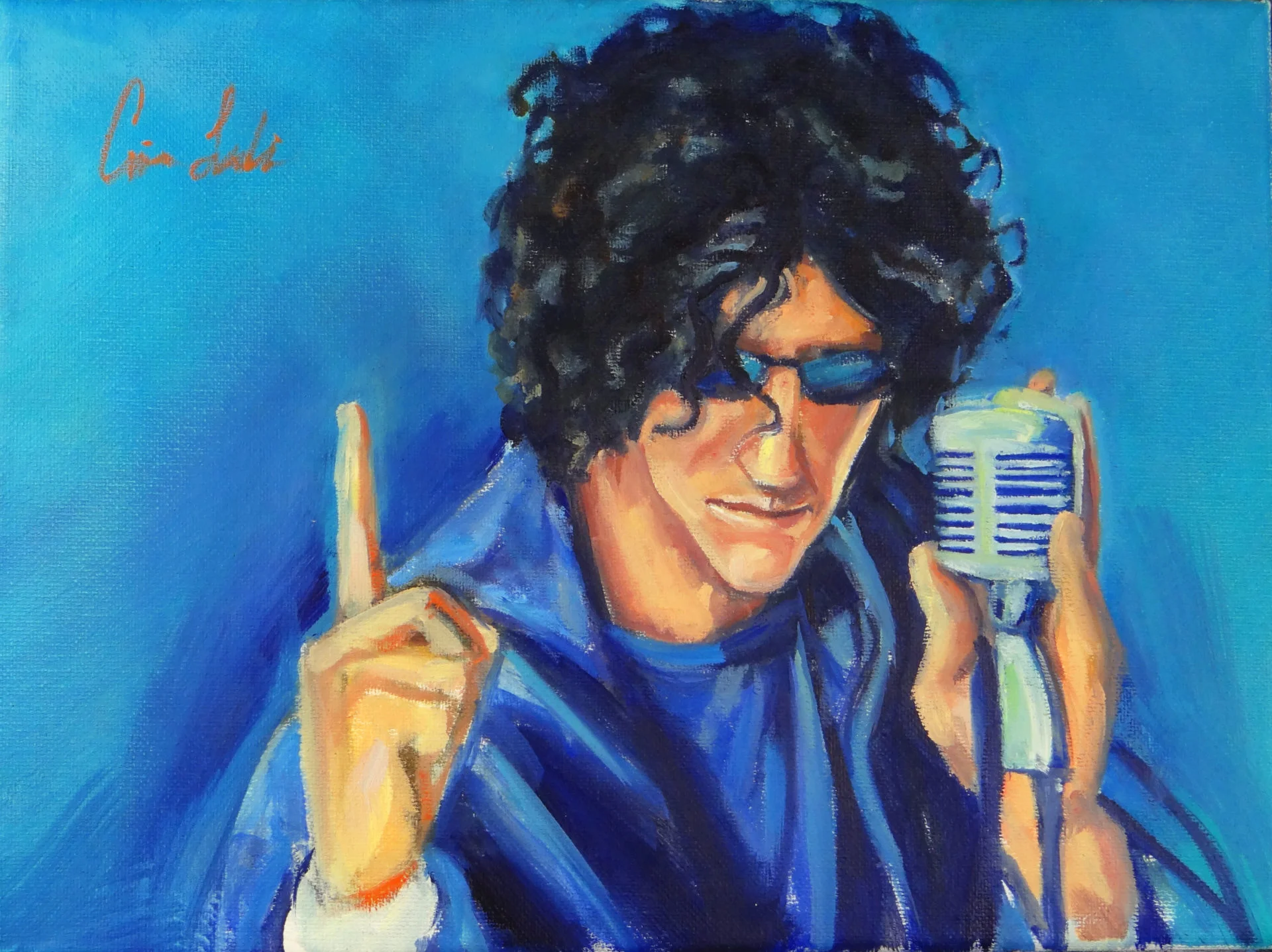 Behind the Mic: The King of All Interviews
Howard Stern's new book, Howard Stern Comes Again, is hot off the press, officially hitting shelves today. His third official release focuses on the art and detail of his greatest interviews, providing some color around the appearance and a peak behind the curtain of what the moment in history means to him and why.
At 65 years-old, and in his 14th year with Sirius XM, The Howard Stern Show is better than ever. It has become the go-to spot for those on the promo circuit. Listen intently and you will notice – you don't want a Stern interview to end and neither does the guest. Noine out of ten times, you hear Baba Booey come running in with a – "He/she's gotta go."
Forget about anything raunchy or the prank calls or the whack pack for a second. Yes, the show is a brilliant variety, but narrow it down and you will see – the King of all Media is also the King of all Interviews.
Here's why.
He creates an environment where he and his guest have a sitting on the back porch with a beer style conversation. They never stumble through monotonous questions, they have a true conversation. Stern gets his guest to tell stories as opposed to giving answers. Granted there is more time allowed during a Stern Show appearance vs. almost anywhere else, Stern still chooses to bypass the generic line of questioning and get right to compelling subject matters that most don't ever ask or even think of. He doesn't want to provide a subjective album review, he wants people to feel something. He doesn't do what's expected, he does what he feels. Perhaps the most respectable trait is the fact that Stern shows sincere interest, fascination and admiration for the guest's work of art. He wants to hear how that great song came about, what movie role was turned down that ended up being huge, where their inspiration comes from, and  what their upbringing was like. And he thinks. And he listens. He really listens… and processes what the guest explains, often comparing it to his own experiences. Quite simply… he just cares.
When you're prepared, you deliver. When you prepare more than everyone else, you deliver better quality than everyone else. That's very attractive for the interviewee who much rather open-up to a host who has done their homework and knows what they are talking about. It's refreshing to speak with someone who's not just going through the motions and doing what they're supposed to do to get the "news" answers.  When you add in showing a genuine appreciation and admiration for that artists work, you put yourself on another level of sincere entertainment. It allows for a personal connection.  You simultaneously learn about the human side and not so human side of your favorite artists, in addition to getting turned on to new talent. It's like a mini autobiography that comes with a live intimate performance in your living room or car.
If you look at the past five years alone the lineup of guests of been epic. The big names are stockpiled with people like Neil Young (who Stern mentioned would be his dream interview) and Adam Sandler making their Stern Show debut.
Then there's the live music component. It's rare to have a show that contains a full-length interview and a live performance by the same artist. Though there have been some classic performances (all that occur in the early hours of the morning), there have also been some on-the-spot songs that occur unexpectedly and completely on a whim (See Grohl/Foo Fighters and Chris Martin below).
As a music fan, you long for your favorite artist to be on the Stern Show. You know you are going to get something unique. You're going to learn something you didn't know and hear something you've never heard.
Given our platform here, let's further dissect this by taking a look at few exceptional musician appearances on the Stern Show.
Foo Fighters/Dave Grohl – March 18, 1998
Dave Grohl and company have been on the show numerous times since Grohl's debut on the in March 18, 1998 – where a certain three minutes would change the Foo's forever. Grohl has often acknowledged how the impromptu, acoustic "Everlong" performance catapulted his career in ways he never imagined. Stern casually asked Grohl off-the-cuff to play "Everlong" to which Grohl obliged, though he had never played it that way before. Grohl reflected on the experience year's later saying on air, "That song blew up all over again because of that version and it was purely because of Howard. It sounds crazy, but I don't know where we'd be right now if it hadn't been for that morning in his studio. Or what we would've done if we hadn't open up that door to doing acoustic stuff. So, you know, we owe that guy a drink for sure."
Chris Cornell – June 12, 2007
Chris Cornell's first appearance on the Stern Show in 2007 is a great example of my entire point. Cornell plays a beautiful rendition of "Black Hole Sun," after discussing various things about his childhood and personal experience coming from Seattle. Stern's immediate reaction after the performance was "Beautiful. Now that was moving. I had a whole bunch of thoughts during that song. I started thinking – is the Black Hole Sun a hole in your heart?" Cornell then explains that he wrote that song at 4am while driving home one night. He then whistled the melody into a tape-recorder when he got home, but never ended up listening to what he recorded. It all came back via memory. Artie Lange chimes in and tells Cornell how much Soundgarden's "Blow Up The Outside World" impacted him. He too tells a story on how he was in jail for 10 days and was allowed to have one thing. He chose to listen to Soundgarden on a Walkman. He played "Blow Up The Outside World" on repeat as it completely matched what he was feeling at the time.
Cornell would appear on the Stern show again in 2011, performing covers "Imagine," by John Lennon and "Thank You," by Led Zeppelin.
Metallica – September 23, 2013
The iconic metal group performs full-band, plugged in, classics "One," "Nothing Else Matters" and "Enter Sandman" live in-studio. Stern, marvels at James Hetfield's guitars and asks him questions about his unique axes – truly from a fan standpoint. Hetfield also tells some fascinating stories about how he initially sounded like a Robert Plant wannabe when singing. He walks the audience through his process of finding his now signature, growly voice after realizing the Plant thing was not it. We also learn of Hetfield's crazy stage freight. In the early days, former Metallica guitarist, Dave Mustaine had to be the guy on stage who spoke to the crowd due to Hetfield's discomfort. Did anyone else know that before this interview? Didn't think so. I certainly did not.
Gavin Rossdale – September 9, 2014
Rossdale has appeared on the show a handful of times, both solo and with Bush. It's his 2014 appearance where we get questions like "What was the changing moment when you started to finally feel like you were good?" We learn here that it was the Bush frontman's voice (or lack of) that held him and the band back during the early days in London. Rossdale mentions that he still takes lessons and it was Nigel Pulsford (Bush original guitarist) who helped him gain his confidence. Ultimately, after years of persistence, Rossdale would end up being a guest coach on a show called – "The Voice." Stern wanting to know the stories behind Rossdale's biggest hits gets him to talk within the first five minutes about things like how "Come Down" was the first song Rossdale wrote on his own. In regards to "Glycerine," which is arguably Bush's biggest song, Rossdale reveals the song was ignored by management at first and that it was written in his bedroom, which was located in the basement of a London apartment at the time. Dave Grohl's name comes up a few times and Rossdale mentions that Bush was in fact the last band to record a number one record, Sea of Memories, on the infamous Sound City Neve console, that spurred Grohl's Sound City film. It's something left out of the Sound City documentary. Bush would then go on to record their next record, Man on the Run, on that same Neve console at Grohl's Studio 606 after Grohl acquired it.  There are a lot of "What a great story," "I'm so glad you bring that up," one-liners sprinkled in there by Stern during this interview. Rossdale also world premiered his new record Man on the Run during this appearance.
Neil Young – October 14, 2014
Stern often mentioned over the years that Neil Young would be the ultimate guest. It's common knowledge how much of fan Stern is of Young. Yet, it's Young who explains how anxious he was to appear on the show. He mentions he woke up at 4:30am wondering what it would be like. How do you prepare and conduct the interview you always dreamed about? Whatever Stern did lead to an amazing 90 minutes where Young told stories about being roommates with Rick James in Toronto and gave some behind the scenes insight into his record Greendale – opening up about how Bono advised him the songs needed more hooks so more people would hear them and be drawn to them.
Chris Martin – March 16, 2016
Chris Martin stopped by to promote Coldplay's record, A Head Full of Dreams. Knowing the environment, this is one of the most relaxed Martin interviews of record. He willingly takes Stern and the audience into his personal routines. Martin explains that the first thing he does each day is write in his journal for 12 minutes. It's a practice he learned from Einstein as it's intended to get all the negative energy out of your system. Stern and Martin spend some time discussing Martin's present place in life as it's been a wild few years for the frontman who went through a divorce with Gwyneth Paltrow and had recently played the Super Bowl 50 halftime show. Howard with some sensitivity, asks Martin what it's like to be the center of attention on stage, where everyone wants a piece of you, and then you go home it's gone. You're not that special. It's a deep thought to which Martin responds by saying, "that's a marvelous question," and explains how it is difficult to come to terms with. We learn Martin spoke with Bruce Springsteen before the Super Bowl to get some advice on playing the biggest stage and biggest show of his life. Martin also rips a page out of the Stern playbook as he discusses one of his favorite artists, the late, great, David Bowie. Martin tells a story how Bowie in his early days wrote music to a French set of lyrics he received back when he was younger and working for a publishing company. Bowie sent them off upon completing and it was not well received. The song project would end up turning into "My Way," performed by Frank Sinatra. This lit a fire for Bowie and led to him writing "Life on Mars," which is Martin's favorite Bowie song. Stern agrees it's a great song and asks Martin if he can play it. Oddly enough, Martin had learned it the day before and then plays a stunning unscripted version, solo on the piano. Finally, we get to hear what exactly is going on in Martin's head musically at that moment as Stern asks him to translate it onto the piano. Again… where else does that happen?
Gary Clark Jr. – February 26, 2019
Four days after the release of This Land, Gary Clark Jr. immediately connects with Stern as if they've met before. Just 30 seconds into the conversation, Stern was inquiring about what age Clark Jr. was when he first picked up the guitar. It's not until the 24-minute mark where we start to hear about the new record. In-between we learn about Clark Jr.'s fascination with Tito Jackson as a young kid and his red Gibson guitar, and that he first taught himself how to play by picking up two books at his middle school library. In addition to performing a thunderous version of the new single "This Land", Clark Jr. and his band first launch into their version of The Beatles "Come Together", which we then find out is played on a guitar tuned to open C#.
This appearance was such a perfect example of the – who are you, how did this happen, why, where, and with what? You then interpret the music differently and connect with its power deeply because you can appreciate the authentic place it comes from.
Maren Morris – May 6, 2019
Want an example of an "Artist Wave"? Check out Maren Morris and her band singing the chorus of her latest single "Girl" a cappella on the Stern Show. After performing a chilling full-band rendition of the song, Stern noticed much of her backing band was singing the chorus as well. "I would love to hear what your blend of your voices sound like without music… would you mind doing something like that for me?" Stern asks. They break right into it and it's mesmerizing.
Where else does that happen (nowhere)? Who else asks questions like that (no one)?