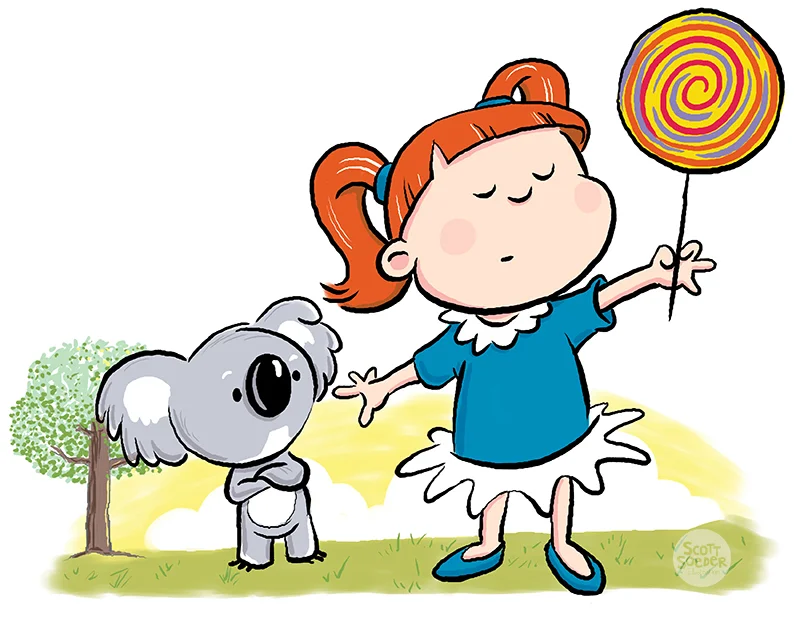 Isn't She Precious:
This morning, I was running late to make my morning commute into work on time. I grab my keys off the counter, run left to the stairs, and thankfully halt. I pivot back to my right remembering I forgot my phone. I feel like I'm flashing Barry Sanders style moves, though really I look ridiculous and internally, I'm frantic that I'm going to miss my train. My keys are now literally dangling from my pinky as I'm shifty (clumsy) back to my left. Then out of the blue comes – "Bye, Daddy."
Freeze.
I look over my shoulder to see nothing but a glowing rainbow shirt, purple pajama pants with one leg rolled up and sleepy hair tied in a pretzel. We both take a step in and I hug you as tight as I can without getting too close because my hair was still wet and you hate "wetness". The sound of the train rolling by in my head is instantly demolished by your delightful I-just-woke-up-voice. The only tunnel light I see is coming from your piercing blue eyes.
It's five more sleeps until you're five-years-old. You've been so patient in eagerly awaiting your magical day. So, as the final countdown begins here's a song for each day to pair with your unwavering enthusiasm. Know that they are our own interpretations and also that…
"When You Need Me" by: Bruce Springsteen
Just call my name. A few weeks before you were born a wise-man told me, "No matter what, when your little girl says 'Daddy' –  everything else in the world stops."
In life there are so many unknowns. Your perspective will help shape much of the outcome. I love how your inquisitive, yet easy-going mind embraces that with optimism, realizing that it can lead to so much excitement. But I assure you there is one thing that I will always know – that wise-man fed me the truest advice I have ever heard.
"I'm Still Standing" by: Taron Egerton from the movie Sing (originally by: Elton John)
Seconds after you were born I noticed something fierce – you had some major lungs, kiddo. I'm pretty sure the entire hospital noticed. There were windows being replaced at the adjoining wing, and now that I think about, it may not have been a coincidence. But to Mom and I, it was the sweetest music to our ears.  You love the movie Sing and you always rip this version at the top of your lungs when you get in the moment. May you always embrace those moments when they strike and continue to sing loud and proud. It only helps that the message within this composition is highly positive and encouraging. In fact, I hope you don't mind, but you inspired me to borrow it.
"Hello" by: Adele
I'm piggy-backing on the point of your "voice" for a moment. You were barely two when this song came out. It was ubiquitous, every radio station played it regardless of genre. It was well-deserved, but furthermore, it allowed for this – you would sit in your car seat with your wool hat rolled down almost covering your eyes, your cheeks smushed into your jacket collar and then in perfect stride you'd match Adele. To you and Mom, it became "your" song together. What you don't know is that each time you break into it, we stop and listen to you soar.
You also love to color. This accents you so well because each piece of yours is unabashedly expressive. You apply yourself and you make sure the colors you design are so vibrant that nobody is allowed to look until you are done.
What I'm getting at is – regardless of your outlet, my little girl, you are strong. Who would have the audacity to go nose-to-nose with Adele?
Well,…
"The Sky is a Neighborhood" by: Foo Fighters
When you dress yourself, certain things are consistent – you're sporting your favorite items, they contain bright colors, nothing matches, it involves some sort of head-gear accessory and you're not changing for anybody. You know what?… Good. Don't. Don't ever. You without question march to your own beat, and you don't back down from anything. The sky is your neighborhood like this song suggests because you design it. You place how the stars align and your grateful attitude always produces a brightness to life for not only you but to those around you. It's a testament to your nurturing ways.
Also, if I may be selfish for a minute. We have a similar sense of humor (I'm sorry!). There's nobody in the world who can join me in spitting out Adam Sandler movie lines in the exact hilarious tones like you can. So, when "The Sky is a Neighborhood" is on (and you often ask me to play it) (yes!), we put an exaggerated emphasis on the "hoooooooood" and it cracks us up every single time. In a way, this song encapsulates every point I've made so far.
art by: Scott Soeder
"Isn't She Lovely" by: Stevie Wonder
So, here's our lullaby. This is the first song that welcomed you into the world. We sing it together every night as I tuck you in (you then untuck yourself and go on to play family with your baby dolls in your bed for about 45 minutes, but that's beside the point). Stevie Wonder wrote this beautiful melody about his daughter when she was born. It represents how precious you are and how everybody under our roof will abide by keeping you in the princess chair you love and deserve.
As I write this, you are staring at me. In the left corner of my desk I have a photo of you sitting on beach with the wind blowing your hair. In the right corner, you are on a swing in our backyard, again with the wool hat /smushed-face thing going on. In both of them you are smiling. Not the – say cheese somebody wants to take your picture smile. Just your natural radiance. I know that quality alone will bring you wherever you want to go. I hope along the way, I miss a million trains.