Chris Cornell at MoPop, Jaws, Breaking Bad and more in bronze and silicone
On October 7th, the Museum of Pop Culture in Seattle held a special unveiling ceremony of the new Chris Cornell life-sized bronze statue — commissioned and donated by Vicky Cornell.
At the ceremony, which was attended by Cornell's family and Soundgarden band mates, Vicky beautifu
lly described the rock icon and Seattle legend as "an artist who continues to draw us together forever." That spirit is exactly what's captured in the statue. It was created by artist, Nick Marra.
After 30+ years working as a sculpter and special effects make-up artist in the television and film industry, Marra started his own studio where he now creates life-size silicone figures, bronze busts, and statues for the likes of private clients, business owners, production companies, award ceremonies, national organizations and more. Marra takes a ton of pride in not only capturing the intricate physical details of the person he is sculpting, but also constructing a piece that represents the unique emotion of the individual.
Shortly after the Seattle ceremony, I had the chance to catch up with Marra who took me through his incredible process.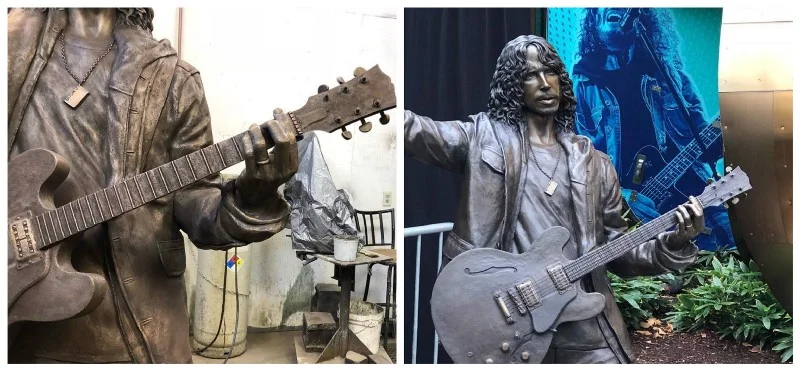 What is your personal artistic journey? How did you begin sculpting?
I began at an early age ( around eight-years-old ) to really enjoy drawing, from there I gravitated towards sculpture. Developing and refining my techniques I ended up creating some sculptures from a wildlife art gallery in my hometown of Windsor, Ontario, Canada.
Soon thereafter, I realized my love of art and film would lead me to Los Angeles, California in 1988. I then began working in the Special Makeup FX industries, working on close to 200 films, commercials , and TV. I was fortunate enough to work on some of the bigger Special FX movies of the era (Jurassic Park 1 and 2 , Terminator 3, The Walking Dead , Star Trek 6, Halloween 6 , and Nightmare on a Elm St 6, to name a few).
Seeking out more autonomy, I opened my own Studio (Nick Marra Studios) in 2014.
What is the artistic process to create such a sculpture like the magnificent Chris Cornell piece?
The first aspect with any project is scale — what size will the piece be? Over-sized ( heroic ), life-sized , or other smaller scales ( 2/3 , 1/2 , etc ).
Next is material — in the case of the Cornell piece, the client wanted a life sized full bodied bronze.
Next is timeline — since the scale and material dictates the time-frame for completion. A bronze, because of the tedious foundry schedule has a slower turnaround time than say my hyper realistic figures.
I then plot out my method of attack, from armature to sculpting material, to appropriate molding techniques. With bronze my foundry ( Art Bronze inc ) they use the lost wax method — so I supply my molds and they generate a wax which then gets a porcelain shell ( temporary, or throw away mold ). Once the porcelain is hardened the throw away mold is put in a high temp oven ( kiln ) and then the wax is burned out. At this point the porcelain mold is ready for the raw , liquid bronze. Once cooled , the metal ( bronze ) is freed from the porcelain. Clean up on the metal ( chasing ) and then the final finish ( patina ) is discussed with the client. With the Cornell piece, we went with a traditional "classic" patina.
How long does a statue like this take you to complete?
The Cornell piece was about six months from start to finish.
How do you know what image of person you'd like to replicate? Is it as simple as collaborating with the person or family to find the right one?
With bronzes usually the client collaborated on the "look" or pose, but it can vary depending on subject or clients desires. One of my trademarks, I've been told, is having the ability to capture the essence of the person more than just a traditional likeness. I always strive to create a living being with each of my pieces.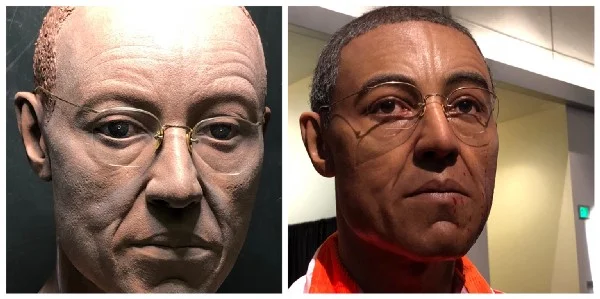 Will you listen to the artist's music prior to starting or during the process to embody the person?
I absolutely listen to not only his music, but interviews as well as hearing from loved ones — this really helps create the right look for the sculpt.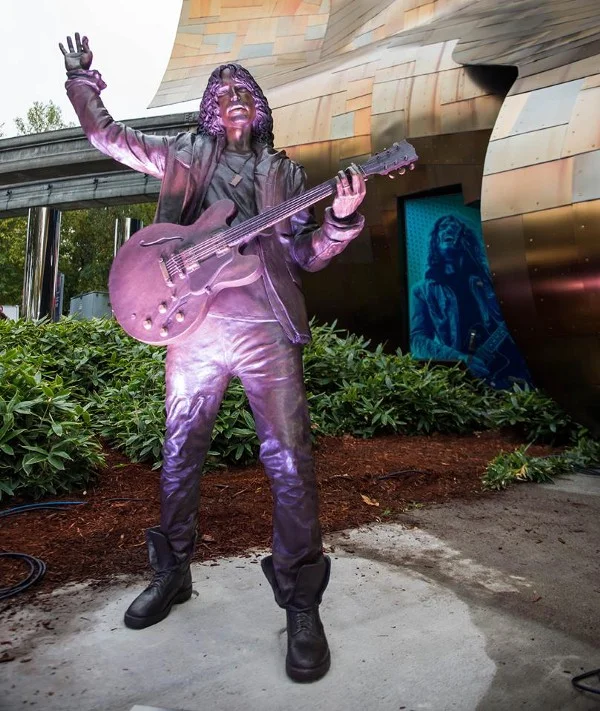 What are the final dimensions of such a sculpture like Cornell's in terms of height, weight, etc?
Since this piece was life-sized , Chris was rather tall (6–3 ) with the pose his right hand thrusting upward was approximately 7 feet at the tip of his fingers.The bronze was weighed at the foundry and cane in around 385 lbs.
What are you working on now? What's on tap for you?
I'm working on a huge bronze project for the Tolerance Museum in Israel (Ronald Reagan and Netan Sharansky on a bench). And I have an Alice Cooper (silicone hyperreal)piece in the works for Monsterpalooza 2019 ( Pasadena ).
When you your work will be donated to MoPop — Seattle and it represents an icon in Chris Cornell, with a legendary body of work, planted in the middle of the mecca, Seattle (+ knowing it will mean a lot to so many fans) how does that make you feel? What does it mean to you?
It's actually indescribable, it's still a surreal experience, at the unveiling ( Oct 7th ) standing in front of the piece, knowing all the pain, blood, sweat and tears that went into it's creation — it was an incredibly emotional moment. I'm just hoping the fans appreciate the care and love that went into it's creation. It's a great honor for me to be involved, and huge thanks to Vicky Cornell for offering this gift to the city of Seattle, and fans all around the world to make their pilgrimage to pay their respects to this legendary voice of a generation.