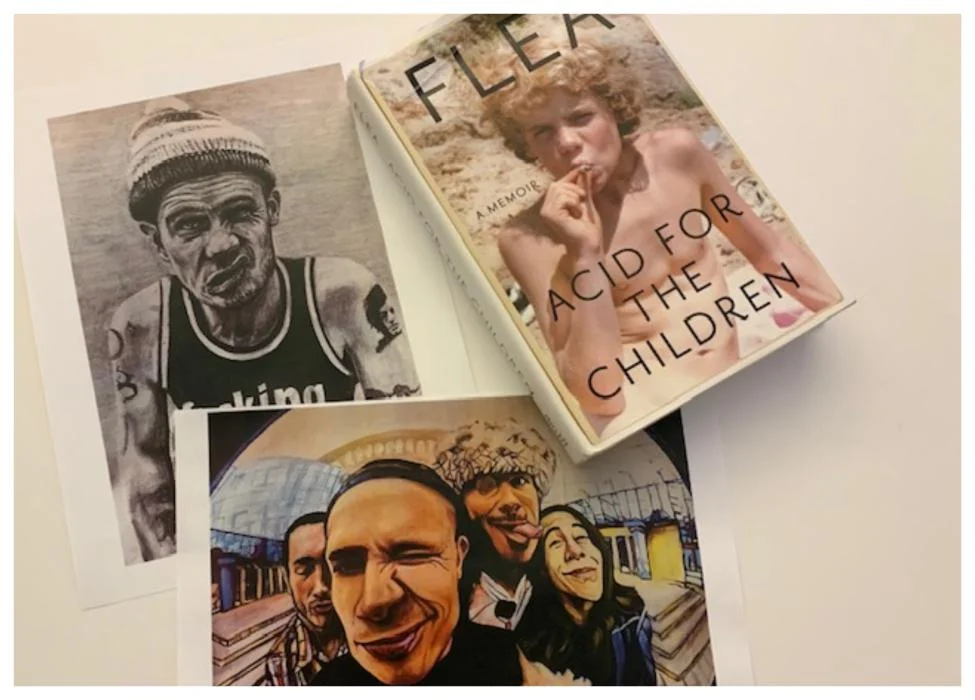 From The Rhythm of The Heart Strings with Red Hot Chili Peppers' Flea.
I put my headphones on. "Dark Necessities" plays and I feel every boom pop boom ba boom pop pop that runs and slaps up and down on Flea's bass. Like a million minnows swimming rapidly through my veins from my heart on one side of my body and straight to the heart on the "Otherside".
I watch Flea take the stage at a concert. Every inch of him colorful and glowing under the descended lights – from instrument to shoes. I see him get lost in the music where the funk, jazz and rock take over and carry him away to a place of pure sonic bliss.
And now I get it.
Though I have been a Red Hot Chili Peppers fan for 30 years, it is in this moment, having read Flea's book Acid For The Children (released November 5, 2019, via Grand Central Publishing) that I truly understand to the best of my ability the perspective Flea has on this open field we call life. I have a deeper appreciation for how he chooses to navigate it and the vision he has to make it brighter. I realize that the next time I see the band live (Boston Calling in May) the rhythms will further sink in and form in the "Wet Sand". With glee, I know… this is how I will experience RHCP from now on thanks to this brilliant read.
I'm with you.
Intrigued by such a riveting musician like Flea writing a book, it was his interview with Malcom Gladwell (also available via he and Rick Rubin's "Broken Record" podcast) that really hit me hard. Flea's displayed emotion in answering the questions was so moving that I immediately flew away on my Zephyr to the nearest local record shop that I knew also carried Acid For The Children. I bought the last copy they had.
I get home and crack it open. I'm graced with the sound of the binding cracking (one of the best sounds) and that familiar smell of a book that was pulled from a shelf of cohorts, sitting upon ancient wooden shelves of a local library. "Falling Into Grace"….away I go.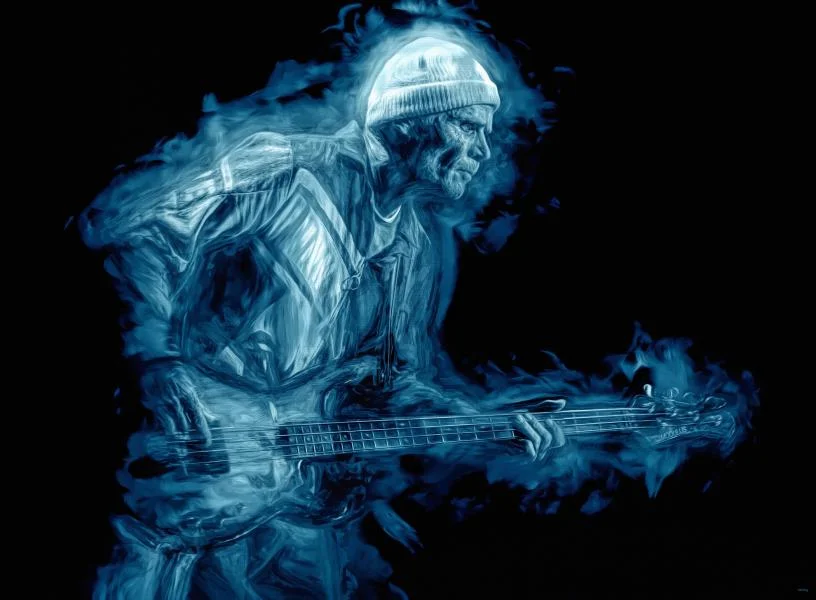 art by: Mal Bray
Freaky Styley:
The one-and-only Patti Smith wrote the foreword of Acid For The Children. It's not your standard intro of how they know the writer and endorsing the point of view as one of extraordinarily rare. A must-have. Though true, it's a beautiful poem. Just as you'd expect? But that sets the course for the remainder of the experience as Flea speaks his way. Like you are sitting on the back porch with him, rocking in a chair with green tea while Miles Davis' Kind of Blue subtly plays in the background. Frankly, this book is perfectly unedited in voice – with short chapters each named like a song-title, an inner-monologue / cliff note style peak inside the core of Flea where he gives you his guts on certain heavy topics… all written in italics. Sentences that chop of "the" or other lead-ins (nothing special about me) so you can jump off the roof with him. While you listen intently and wide-eyed, you get lost in the sea of wander as Flea dips the pen into the ink of his heart.
"Say it out loud. I'm freaky styley and I'm proud!"
Me and My Friends:
The coasts change, the cities change and even the continent changes in Flea's story, but one constant is the value of friendships. Perhaps fueled by a natural charisma, Flea had (has) friends with him throughout all turns of his journey. Friends to run the streets with, friends to run away with, friends to sit with at school and friends to groove with. His memory of which friend participated in each chapter is awe-inspiring. His recollection of the back seat of his friends car that was driven by a step-father and was laced with an unforgettable smell to fog with windows, transports you right there sitting next to him, wondering which version of "Walter" awaits at home.
There's a tone of love for Hillel Slovak that is genuine, pure and unmatched throughout hundreds of pages. Then there's just one paragraph that gives a nod to Alain Moschulski (Johannes) in a way where just a few sentences carry the weight of the world. Then there's this other friend. A lifelong spirit animal. Two bull moose upon a frozen tundra. It's bitter cold, but it feels so good.
His name is Anthony.
With tears of joy to Gladwell on stage and in blood on the page – "Mom, for the first time in my life I've found someone I can talk to."
"He's as close to me as a friend can be. I'll be standin' by my buddy he'll be standin' by me. Just another half of the two headed freak. But I need him like my heart needs to beat."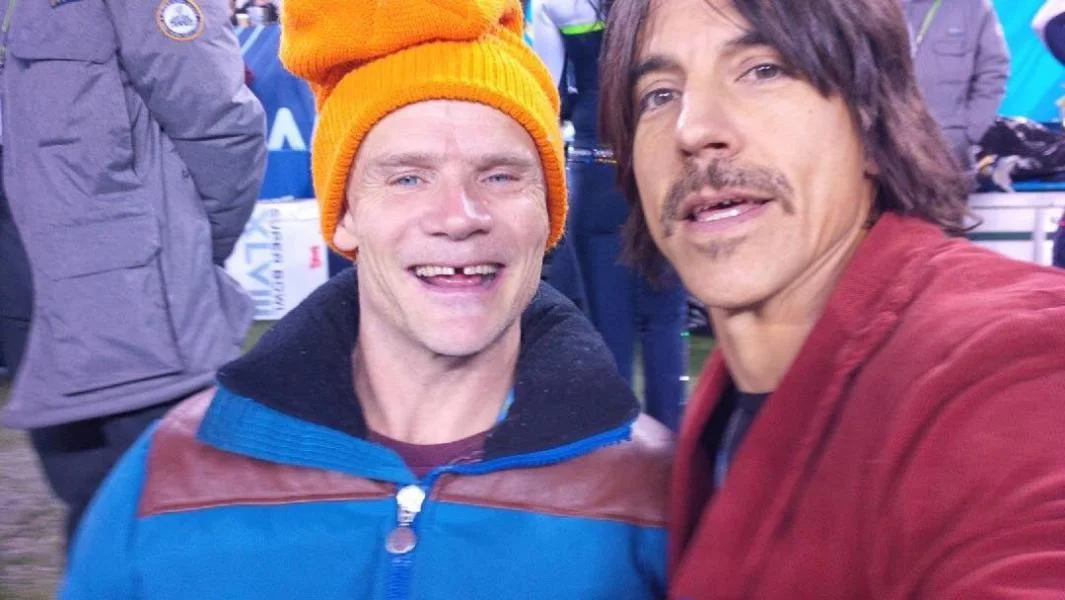 photo via: Flea
This Is The Place:
"We've all got our own sacred place, but to access it, your mission must be pure and your aim…. You gotta go for the joy, the pain, the adventure, the search, the journey to love."
Flea became a bass player by what he describes as "Just exploring a sense of purpose." Flea speaks of the bass in such adoring detail that you too feel the flat wood of the neck and rolling thunder of the strings. For f@cks sake my fingers were even sore from holding down the virtual strings. Flea explains how although the trumpet is perhaps the instrument that comes the easiest – wizard-like with a touch of surprise as to how quickly he can master it, it's the bass that sends him into orbit. From the first time he rocked a house jam with Hillel and Jack Irons to playing infront of 60,000 people in Brazil, the bass accompanied by "My Friends" takes Flea someplace else. With each note slapped, plucked, plunked or strummed, there's a lighting bolt of emotion to let his body flow freeily and submit to the forces of nature. To let it go.
In turn, a contagious energy is released like a vapor for an attendee to let sink in and with respect, accompany your own pure mission.
"This is my calling my… I said my darling."
Funky Monks Take The Longest Wave:
But then what happens? When you're in that place of solidarity and you can't stop addicted to the shindig? Well, as Michael Balzary says, "In the groove nobody can stop you." When you find it, you feel it so deeply that for better or worse you are overcome with a confident contentment that can't be tamed. You channel it, nurture it and treat it with respect so that in your darkest moments you can still tap into it to guide you back to the light. Your soul to squeeze is tortured and it feels refreshing because you can share your gift with the world in a way that enters you into the sauna of life before quickly coming to.
Still, you let it flow. "Ya gotta suspend all self-judgement, and embrace all. The reward is the journey itself."
"The longest wave. Waiting on the wind to turn my page…. Waiting on the tide so I can swim."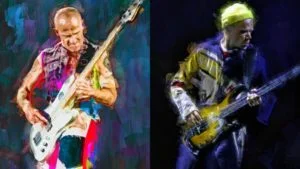 art by: Mal Bray
Sick Love:
We all have scar tissue. Dark necessities are part of my design and yours. But we learn to feast on the flowers. The last chapter is titled "Love Is The Only Serious Work" and its perhaps the point Flea makes the easiest. Without much description or hesitation, it's direct. You're encouraged that you too can make it through. Flea focuses on a point for this entire read that in all his artistic scenery, and with all the colors he uses to paint his words upon this canvas – gets summarized in the simplest form. "I learned to surrender, accept my pain as a blessing, trust in love, and let it change me."
And by now, you know it's true. 377 pages of brass-funk-jazz-electric-rock-wild authenticity just backed it up. You take it with you when you go.
"Rivers get connected so much stronger than expected, well sick love comes to wash us away."
Boom bap boom ba boom bap.
Art displayed in featured image by: Gail Younts
*all sub-titles are Red Hot Chili Peppers song titles
Follow @JeffGorra
JeffGorra@ArtistWaves.com